FRUIT ORCHARDS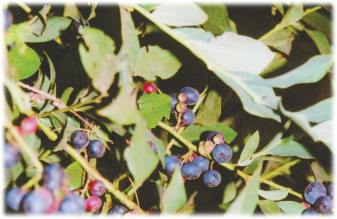 Blue Berries
Coromandel Farm is South Africa's largest producer of this fruit with 13.25 Ha of 13,808 trees. 6,54 Ha are under netting and 7.68 Ha are fed by drip irrigation.
Peaches
(13.48 Ha - 9,598 trees) - All under netting 12,8Ha with micro jet irrigation. Varieties include: Transvalia, Orion, Safari, Bouigold, Novadonna & Desert Gold
Nectarines
(3 Ha - 2,916 trees) - All under netting with micro jet irrigation. Varieties include: Arm King, Sunlite, Fiestared, Mayglo & Margareths Pride.
FRUIT PACKING SHEDS
(Parcel 2)Packing activities focus on peaches, nectarines and blue berries. The modern, 1,200m² packing warehouse complex includes are 3 cold rooms (total 91m²) and a freezer room (23m²), 3 conveyor-sorting lines, electronic platform scale and a Komatsu 2 ton forklift. Offices adjoin the factory floor with change houses opposite. One section of the building is dedicated for storing packing material.
WORKSHOP COMPLEX
The workshop complex is located opposite the dairy and fruit packing shed and adjoining the office complex. It boasts 3 large steel buildings (2 x 500m² and 1 x 950m²), and a brick under iron fertiliser store (± 700m²). The necessary offices and workshop facilities accompany these structures. Further improvements include a large number of carports, a workshop pit, warehousing for stores, electrician's workshop, ablutions and electric security fencing and underground fuel tanks.
Within this complex there is also a magnificent stone barn under iron, and a shop/butchery building also partially built of stone with a walk-in cold room and other butchery equipment.
OFFICE COMPLEX
The office complex is located opposite the manager's residence and adjoining the workshop complex and dairy. This face brick building under iron has a 10 offices, a boardroom, reception, computer room, kitchen and 2 toilets. The entire complex construction is of extremely high quality with solid wood doors and excellent finishes.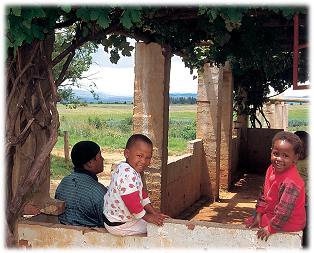 Farm Residences
All the 3-6 bedroomed houses spread over this parcel have well established gardens and good finishes. They have all been inhabited and looked after.
The main housing estate of Abelstad is located in Parcel 2, and comprises 149 houses; all built of brick with asbestos roofs and are neatly laid out on high ground. There is also a 200 student (seven classrooms) school with 5 teachers houses.
The old village of some 25 houses is located on low ground near the school is in the process of being shut down.
Click to see:
Parcel One - African Manor house - Stables - Parcel Two - Parcels Three, Four and Five, Home page.