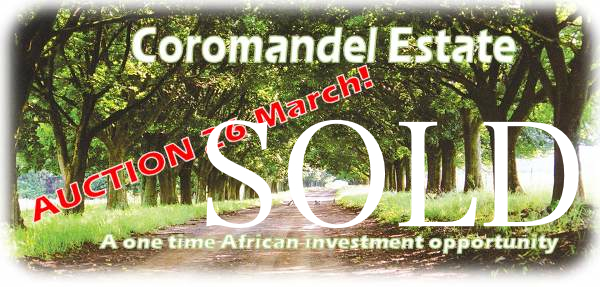 Coromandel lies in an area of breathtaking natural beauty and agricultural excellence, between Lydenberg and Dullstroom in Mpumalanga, South Africa, under three hours drive from Johannesberg. This pristine environment of veld, mountains and rivers offers prime agriculture as well as eco-tourism and other business potential.
The estate was assembled from 24 smaller farms by the South African industrialist, the late Sydney Press, in the 1970's. It consists of five parcels, each with its own character, agricultural activities and business opportunities. Mainly flat agricultural lands are dominated by a local landmark - Spitskop Mountain (which lies within the estate boundary). Built into the side of another mountain - and blending perfectly with its environment - is the unique and luxurious Manor House.
The estate not only includes an operational mixed agriculture business, but also has natural assets in the form of waterfalls, a 300 hectare fully stocked game reserve, and extensive open veldt. Agricultural assets include a fully equipped modern dairy with some 460 head of prime Holstein dairy cows; 750 hectares of irrigated lands growing maize and beans; 30 hectares of orchards bearing peaches, nectarines and berries together with a packing facility, and 1,240 hectares of dry agricultural lands.
Additionally, the estate boasts a yearling barn and stone built stables, twenty-four mangers' residences, an administrative block, and an airstrip. Also on the estate are two employee villages, including a school.
In 2002 Alan Levin and Dan Levin from the Future Perfect Corporation agreed with members of the Press family to handle the running of the South African Press Trust. The main asset in the Trust was the Coromandel Farm. It is a stunning property although being in a risky rural area, and being the new South Africa any traditional property consultant was at a loss for good advice.
After some consideration it was agreed that the best strategy would be to obtain funding from government to enable the people who had worked on the farm and lived on the farm for more than 40 years, to take ownership. In order to do this we held an Auction first, a) to determine a price vale and b) to see if there was any better option.
Although it took over a year it all came together well, and there are more stories on the web now here: From farmworker to farmer
Coromandel Clivia
House Press (Coromandel), Lydenburg district, Mpumalanga. Designed by ZANUSO Marco
We identified that the value of the Coromandel Estate lay in four areas:
- the land: both natural and developed. The estate has mountains, three spectacular waterfalls, rivers with indigenous forests in the rivulets, eight dams, and boreholes. As well as the Manor House there are 24 managers residences, stud farm, administrative offices and a plethora of employee housing.
- the farm: the estate farm successfully combines dairy, beef cattle, irrigated arable lands and orchards.
- further development opportunities based on the game reserve, grasslands and stables, fishing dams, pristine water supply, natural flora nursery and the air-strip
- other assets, including twenty four tractors, numerous farm implements including a grader, a modern maize dryer and feed mixing plant.
Auction
The estate was offered for sale in its entirety, and could have be divided into five parcels. Parcel 1 is here described separately, followed by the details of parcels 2, 3, 4, and 5. Parcels 2 through 5 together constitute the main agricultural business of the estate.
Click to see: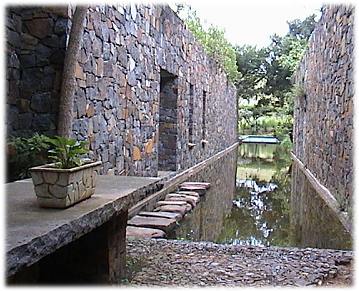 Parcel One - African Manor house, Stables, Game Reserve, Orchards, etc.
Parcel Two - Farm business and offices, Dairy, Workshops, Packing Sheds, Shop, etc.
Parcels Three, Four and Five - Extra lands, Cattle Finishing facility, Maize drier and Feed mixer.
Parcel One - African Manor house - Stables - Parcel Two - Parcels Three, Four and Five.